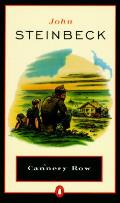 Cannery Row by John Steinbeck is a classic in American literature, and if this had not been for the book club I would have quit reading it a few chapters in. First I had to look up some raciest words I had not heard before. So, I will admit that it was neat knowing that a raciest word that was common when the book was written was falling out of use.
When the book club met to talk about this everyone was talking about how funny the book was, and how it stood the test of time.  I sometimes wonder if people like things because they are supposed to like things, like this book.
I don't even want to review it, but I have never liked what little of Steinbeck that I have read.